Created by Julio Torres, Ana Fabrega, and Fred Armisen, Los Espookys is a Spanish-language (with English subtitles) comedy following a group of friends who turn their love for horror into a peculiar business, providing horror to those who need it, in a dreamy Latin American country where the strange and eerie are just part of daily life.
Fabrega, Torres, Cassandra Ciangherotti, and Bernardo Velasco star as Los Espookys, with José Pablo Minor and recurring guest star Armisen. Renaldo (played by Velasco), a horror and gore enthusiast, assembles his close friends to form Los Espookys, a business based on conjuring thrills and chills for a variety of clients.
Los Espookys is executive produced by Lorne Michaels and Armisen, along with Broadway Video's Andrew Singer and Alice Mathias. The series is co-executive produced by Fabrega, Torres, and Nate Young.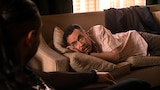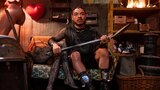 Celebrate Latin Heritage
Visit the Nuestras Voices page to celebrate stories of family, community, and love during Latin Heritage Month and throughout the year.

Enter the World of Los Espookys
Los Espiritus en el Cementerio
Much has changed for Los Espookys: Renaldo is haunted by the ghost of a pageant queen, Andrés has relinquished the title of chocolate empire scion, Tati is married, and Úrsula is plagued by mysterious phone calls. As they take on their newest client – an incompetent groundskeeper hoping to get grieving families off his back –Tico faces a career transition.
Bibi's
Los Espookys' latest gig sees Renaldo transforming into a student role model and monster named Bibi's (with an apostrophe). After learning Tico and Sonia are moving back, Andrés searches for a new place to live – as does his parasitic demon, who bids him farewell for a new opportunity as Ambassador Melanie's intern. Later, Tati's marriage implodes.
Las Ruinas
Delighted with the success of her town's attractions, Mayor Teresa runs for president – and gets unexpected guidance from Úrsula. When Los Espookys must help a professor prove his bogus theory about ancient queer people, Renaldo looks to Tico for assistance. After Úrsula kicks Andrés out to make room for a freshly divorced Tati, he finds a new home with a rich handsome widower.